Quality management system software is really useful for implementing processes and procedures that lead to excellent quality control resulting into total quality management.  By using this software, you can ensure that the quality management system benefits are being fully obtained, and Corrective Actions, Preventive Actions are implemented wherever necessary.
Meet regulatory requirements
Drive continual Improvement
Increased process efficiencies
Document / Data decentralization
Effective task management
Make changes to the system seamlessly
Improved traceability
Outlook integration for reminders
Reduction in costs of correcting defects in existing process
Real-time quality performance statistics
---
Benefits of Audit Module for Audit In-charge
Time Saving Up to 50% in Internal Audit Publishing
Multiple audit import function in a single file – internal audit publishing (Eg: To publish 10 different audit with all the mandatory updates takes nearly 1 hour to complete, through our multiple import option, we need just 1/2 hour to publish. Hence time saving up to 50%).
Easy Tracking of The Audits Planned and Completed
Single consolidated email triggered on every month beginning representing the total number of planned audits against completion of the previous month audit along with percentage which drastically saves the tracking time to the in-charge up to 80% which helps in post audit task closure (Eg: To view 10 audits separately and analyse the status, it takes around 30 mins, but through this singly consolidated email, it drastically reduces to 5 mins).
Visual Statistics
(Graphs and Data trend on a monthly basis) – Increase accountability and visibility.
---
Benefits of Aura Audit Module for Users (Auditee and Auditor)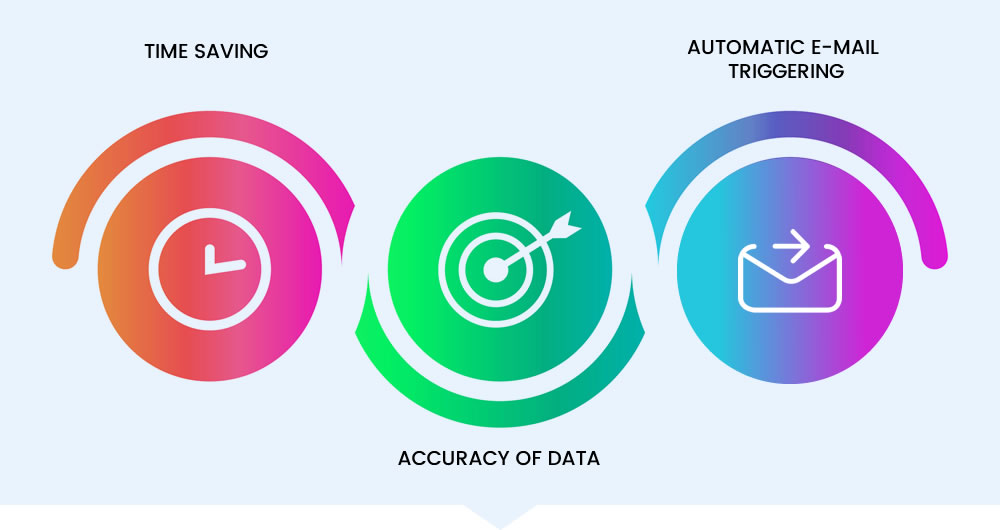 Time Saving
Aura helps to reduce cost and enhance overall productivity for both Auditee and Auditor. Simplifies the day-to-day work by standardizing process and automating repetitive tasks, thereby boosting the performance and effectiveness of the entire auditing process.by reducing the audit time up to 25%.
Automatic E-mail triggering
Automatic E-mail triggering on a daily basis on the list of pending task as reminders, makes daily monitoring tasks easier for both Auditee and Auditor to do their jobs properly while keeping track of their individual task completion status without missing the TAT – 100 % on time closure of completed audits.
Accuracy of data captured
Improves the accuracy of data captured during the audit – Audit findings was directly captured in the tool by the Auditor during the audit, so miss outs can be totally avoided.